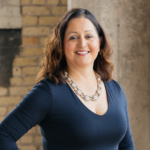 Dr. Nancy Turrubiates, a native Texan, completed the Doctorate in Nursing Practice degree with Western University of Health Sciences, College of Graduate Nursing, in July 2021.
Her nursing career began in 1992 with an Associate Degree in Nursing from Amarillo College, Amarillo, Texas.  Dr. Turrubiates began her public health nursing career in 1996 while working with a Native American community in North Dakota. Addressing health concerns and working with federal programs to help disparate community members has been a passion for Dr. Turrubiates for over 13 years.
Later in her career, Dr. Turrubiates chose to advance her nursing degree with a Master of Science in Nursing from Walden University.
As a faculty member in undergraduate nursing programs in North Dakota and Texas, Dr. Turrubiates desired to impact underserved communities. Thus, addressing issues at the community and systems-level for homeless populations has grown. In addition, research to address housing instability concerns for those in permanent supportive housing is ongoing.
As a faculty member, Dr. Turrubiates remains passionate about bringing students into communities while providing first-hand experience to engage with vulnerable populations.
Dr. Turrubiates will speak on the equity and inclusion of vulnerable communities, including her public health experience.