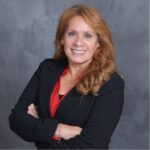 Dr. Sonia Valdez, DNP, RN, ACNP, GANP, PHN, CVRN-BC, FAAN, is the manager at Memorial Care Medical, Clinical Services.
Faculty of Santa Ana College School of Nursing
Faculty of Concordia University
Grant Reviewer for Health Resources and Services Administration (HRSA)
Expert Witness with the Board of Registered Nurses
Currently serves as President for the National Association of Hispanic Nurses Los Angeles Chapter
She developed grant-funded projects to produce and disseminate cutting edge information on a variety of topics, including Infection Prevention for Quality of Life, on nursing care of older adults (funded by Centers for Medicare and Medicaid Services (CMS), & Center for Health Care Quality), a Safe and Effective Transitions of Care Veterans & Homeless Patients (funded by Robert Wood Johnson Foundation).
She is a graduate of Cal State Dominguez Hills School of Nursing (BSN, 2007), Walden University School of Nursing (MSN, 2010), Western University of Health Sciences (DNP, 2018)
In her role as manager of Memorial Care Medical, Clinical Services, she has applied the principles of geriatric medicine to improve the care coordination of uninsured patients with multiple chronic illnesses.